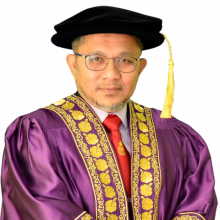 Prof. Dato' Dr Asmadi bin Mohamed Naim
DSSS., PMK.
Chief Executive/Vice-chancellor
Universiti Islam Antarabangsa
Sultan Abdul Halim Mu'adzam Shah (UniSHAMS)
Dr. Asmadi Mohamed Naim is the current Vice Chancellor of Universiti Islam Antarabangsa Sultan Abdul Halim Mu'adzam Shah (UniSHAMS) effective from 1st February 2021.  He is also a Professor at the Centre of Islamic Finance Education and Research (CIFER) UniSHAMS. Previously, he served as a Professor at UUM's Islamic Business School (IBS) for more than 21 years prior to his 2-year secondment to UniSHAMS. He is also an appointed member of the National Council for Islamic Religious Affairs Malaysia (MKI) effective from 30th June 2022. From 19th January 2022 until 19th July 2022, he was appointed as a member of the Royal Commission of Inquiry for Tabung Haji by Yang Dipertuan Agong.
He has vast industry experience in Shariah and Islamic Finance where he has been appointed as a member of Shariah Advisory Council of Securities Commission of Malaysia (SC) since 2014 and a member of Shariah Advisory Council of Bank Negara Malaysia (MPS BNM) for 2 terms (6 years), from 2013 until 31st October 2019. He is also a member of Bank Islam Malaysia Berhad's Shariah Council from February 2020, and the Chairman of Shariah Committee of Sun Life Takaful since 1st April 2021. Currently, he is also a member of the Fatwa Committee of Kelantan (Jamaah Ulama Kelantan) since 2018 and Waqaf committee member of Pahang Islamic Council since October 2020. With the consent of the Sultan of Kedah, he has been appointed as a member of Lembaga Zakat Negeri Kedah (LZNK) since September 2021. Recently, Yang Dipertuan Agong has consented the appointment of Dr. Asmadi Mohammed Naim as a member of the Royal Comission of Tabung Haji.
He is also a member of JAKIM's Shariah Expert Panel since 2019 and prior to this, he was a member of JAKIM's Muamalat Expert Panel from 2016 until 2018. In July 2018, he was appointed as a board member of Sintok Agro Sdn Bhd, a subsidiary company of UUM until 2019. Apart from that, he was also a Grand Council Member of the Chartered Institute of Islamic Finance Professionals (CIIF) from 2018 to 2020 which was previously known as the Association of Chartered Islamic Finance Professionals (ACIFP) from 2017 to 2020.
Prior to that, he was the Shariah Advisor for Hong Leong Islamic bank, Registered Shariah Advisor with the Securities Commission and Shariah Advisory for Islamic financial institutions from 2008 until 2013, where he was involved in designing new Islamic banking products and financial papers such as sukuk. He was also involved in designing the curriculum for Muamalat and Islamic Finance under the Ministry of Higher Education Malaysia.
In 1992, Dr. Asmadi completed his studies in Thanawi Empat in Karachi, Pakistan. After that, he graduated with a Bachelor of Shariah from University of Jordan with the specialisation in Fiqh and Usul Fiqh in 1997. He then completed his Master and Phd in same specialization in 1999 and 2005 from International Islamic University Malaysia (IIUM). He acquired the Chartered Islamic Finance Professional (CIFP) in 2010 and Islamic Financial Planner (IFP) in 2012.
He has received numerous invitations as a presenter, keynote speaker, and discussant at national and international conferences and seminars. He has authored a few books such as Islamic Finance Legal Framework in 2020, Q&A Muamalat in 2016, "Islamic Banking: Operation and Instruments" in 2015.